Central Government allows RoDTEP for 18 HS Codes under Heading 5208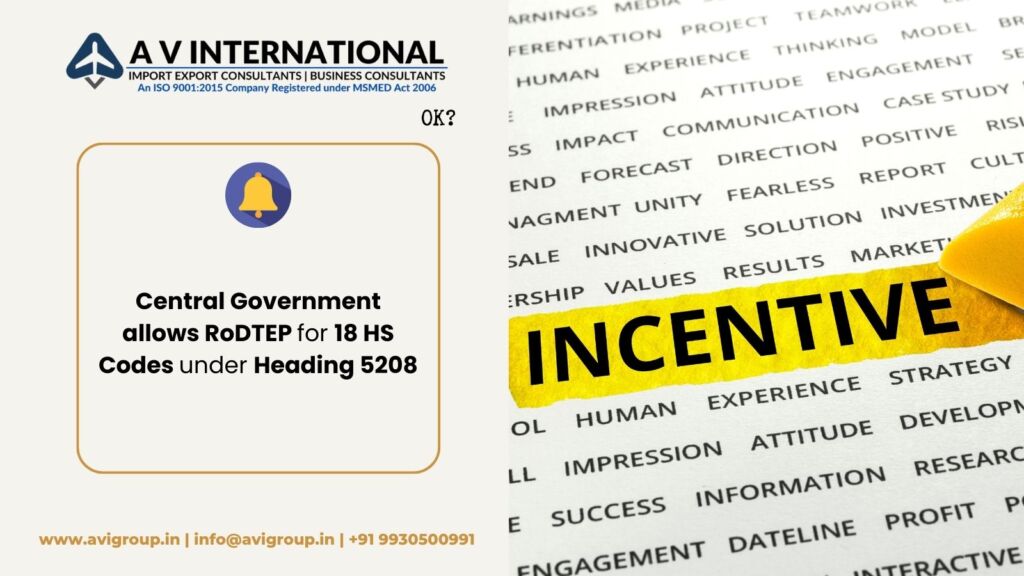 The DGFT issues Notification No: 24/2023 Dated 3rd August, 2023. This notification addresses concerns related to the RoDTEP for 18 HS codes covered under Heading 5208. The notification focuses on the regularization of RoDTEP of the mentioned HS Codes. These codes and their notified rates were added in Appendix 4R through Notification No. 63 Dt. 25th March, 2023.
The notification highlights an error within the customs EDI directory in ICES, where these HS codes were omitted accidentally. To address this, the DGFT has taken action by incorporating these HS codes into the ICES directory for the purpose of filing shipping bills starting from January 28, 2023.
The Goods covered under the 18 HS Codes are shown in the table below:
| | | |
| --- | --- | --- |
| S. No. | Tariff Item | Description of Goods |
| 1 | 52084921 | Of Handloom |
| 2 | 52084929 | Other |
| 3 | 52084990 | Other |
| | 520851 | Plain Weave, weighing not more than 100 g/m2 |
| 4 | 52085110 | Lungi |
| 5 | 52085120 | Saari |
| 6 | 52085130 | Shirting Fabrics |
| 7 | 52085140 | Casement |
| 8 | 52085150 | Cambrics (including Madapollam and Jaconet) |
| 9 | 52085160 | Mull (including Limbric and Willaya) |
| 10 | 52085170 | Mull (including Limbric and Willaya) |
| 11 | 52085180 | Voils (excluding Leno Fabrics) |
| 12 | 52085190 | Others |
| | 520852 | Plain Weave, weighing more than 100 g/m2 |
| 13 | 52085210 | Lungi |
| 14 | 52085220 | Saari |
| 15 | 52085230 | Shirting Fabrics |
| 16 | 52085240 | Casement |
| 17 | 52085250 | Cambrics (including Madapollam and Jaconet) |
| 18 | 52085260 | Mull (including Limbric and Willaya) |