How to do IEC Modification? – All you need to know
To modify your Importer Exporter Code (IEC), you need the following things:
A user should have valid login credentials to DGFT Website (dgft.gov.in) (After Registering on DGFT Portal)
Valid and Active IEC in your DGFT user profile
User must have a valid Aadhaar Card Number or an active DSC for Proprietor or Members of the Firm
Firm's active bank account to make online payment of IEC modification fee
Note:
The user can modify the PAN in case of Numeric-based IECs and such cases will be forwarded to RA Officer for approval. After approval the changes shall be sent to the Customs Department (CBIC).
User will not be able to modify IEC if the firm's IEC is in cancelled or suspended state
Follow the steps as below to modify your IEC:
Visit and Login to DGFT website (dgft.gov.in) with valid credentials.
After login navigate to: "Services > IEC Profile Management > Update/Modify IEC"
In case user has already saved a draft application, click on proceed with Existing Application or else Click on start fresh application button
(If required) Modify the details in General Information Section
Firm address, City and PIN can be modified. District, State and Jurisdictional DGFT RA will be automatically selected by system based on the PIN entered by the user
If needed, address proof document can also be modified
Address proof can be any one of the following documents:
Rent agreement, sales/lease deed, telephone land line bill, mobile, post-paid bill, electricity bill, Partnership deed, Memorandum of Understanding (MoU)
Other acceptable documents (acceptable to Proprietorship) include voter ID, Aadhaar Card and passport copy
In case the address proof is not in the name of the applicant firm, a no objection certificate (NOC) by the owner of the premises in favor of the firm along with the address proof is to be submitted
Enter your details in the "Details of Proprietor/Partner/Director/Karta/Managing Trustee" Tab
DIN (Dir. Identification Number) is auto fetched from Ministry of External Affairs based the CIN number provides above in general information section. Note: The user will not be able to delete the director details fetched from MCA,PAN, Name (As per PAN Database) and Date of Birth/ Date of Incorporation – These details will be verified real-time from the CBDT database. Please note Name (as per PAN Database) should include "First Name, middle name and last name" provided while registering for PAN with CBDT/NSDL
Enter Name, Father Name, Address, City, Pin Code, State, District and Mobile number of Proprietor/Partner/Director/Karta/Managing Trustee.
In case the Director is not an Indian National, tick the check box "Is the Director a Foreign national?"

(If required) Bank account details can be modified. Following changes can be made under Bank Account Section: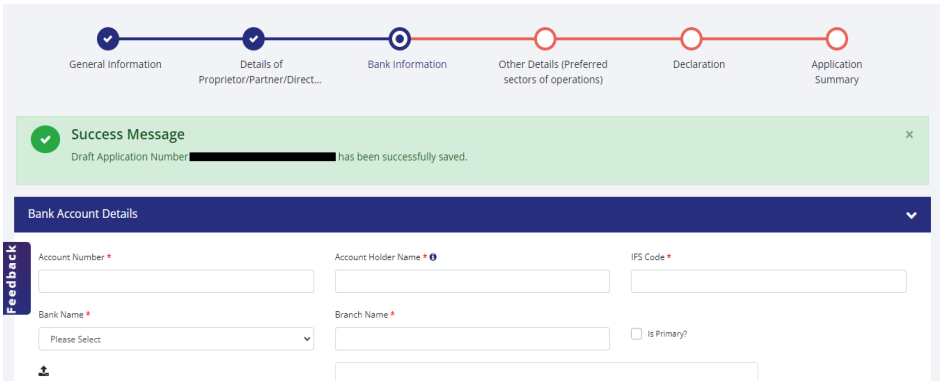 User can modify Account Holder Name, IFSC code, Account Number, Name of the Bank, Branch Name and attachment proof (Cancelled Cheque / Bank certificate)
Note: The Bank details entered are subject to validation through the Public Financial Management System (PFMS System)
(If required) Details in the "Other Details (Exports Sectors preferred)" section can be modified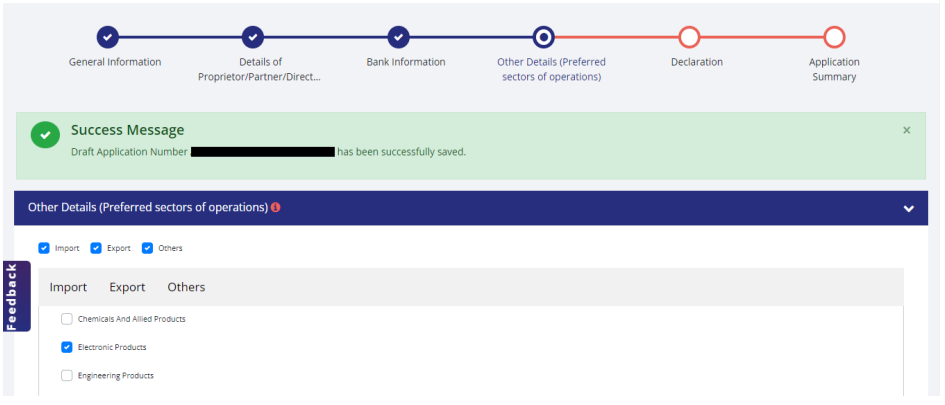 Under declaration section, click on the accept terms and conditions check box and enter place.
Check and verify the Application Summary. Then click on Sign button to sign the modified application using digital signature token of the Firm and proceed to make the payment against IEC modification application.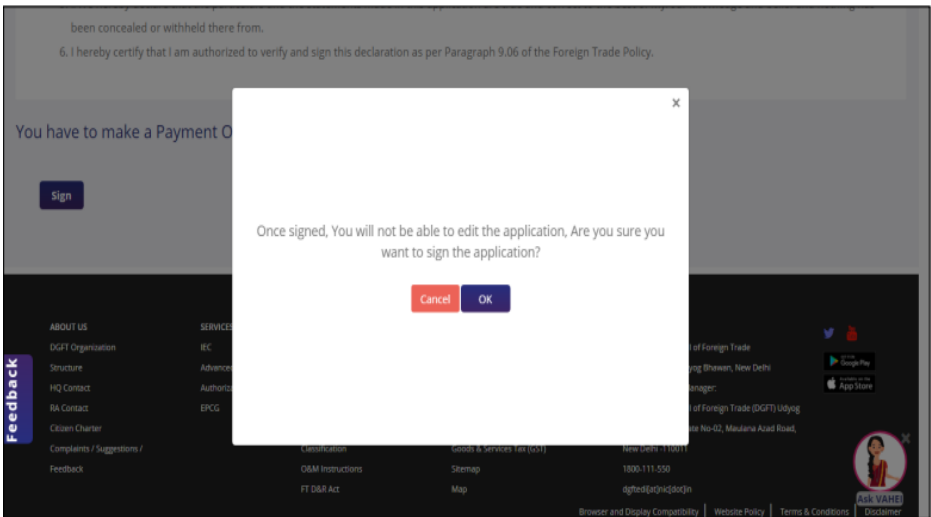 Note:
For payment, you will be directed to a payment gateway (Bharatkosh) where IEC modification fees of INR 200 have to be paid
After successful payment, you will be redirected to the DGFT Website and receipt will be displayed that can be downloaded.